首页
> 新闻
> 新闻 2017
Tweet
新闻 2017
2017 年10月 -

在圣路易的照片展

2017年9月15日至10月7日,在圣路易市,将举办一场特别展览,展出大约二十张复古3D照片,向在14至18岁之间遇难的1900万人致敬。

Marcel Schueller能够收集持续整整一个世纪的私人收藏的摄影版。 由于采用了新的计算机技术和长期的细致工作,他能够进行数字化,清洁和重新整理这些印版的令人难忘的工作,以便能够在屏幕上或视频投影中看到这些图像。

与Barrisol®公司和圣路易市的支持下,Marcel Schueller创建了一个展览,通过在黑暗中的旅程,可以看到这些大幅照片印在Barrisol®面料上,并由背光照明 一个复杂的LED系统。
2017 年9月 -

BARRISOL将在伦敦100%设计展出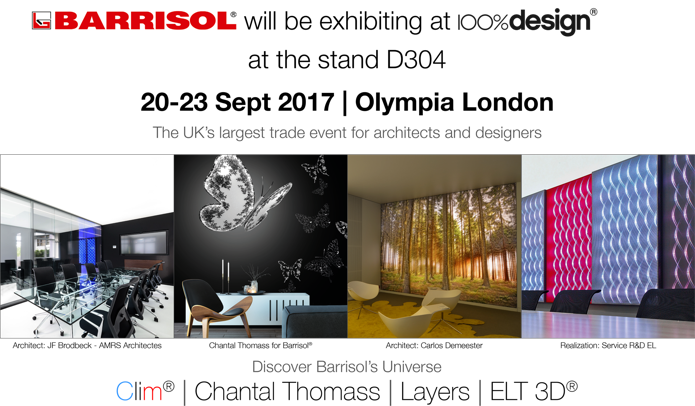 我们很高兴地通知您,Barrisol以100%设计出现,这是伦敦奥林匹亚地区最大的商业设计活动。
地址:伦敦奥林匹亚 - 汉默史密斯路 - 肯辛顿 - 伦敦 - W14 8UX - 英国
Barrisol将很高兴在D304展台与您见面,向您展示我们最新的创新和设计成就。 不要犹豫,来发现我们的系列产品,包括我们创新的空调系统 - BarrisolCLIM®,新玻璃纤维织物以及为Barrisol®设计的Chantal Thomas系列产品。 我们还用大理石来完成我们的木材,砖块和混凝土材料系列。
这是一个很好的机会一起研究你的项目。
如果您想计划您的访问,请在此填写注册表单:
2017 年9月 -

Barrisol®在德国波恩COP23绿色解决方案奖的合作伙伴
2017年,Barrisol®重申其为应对气候变化作斗争的承诺和支持类"低碳"的绿色解决方案奖的竞争,由建设部组织的21呈现。
自公司成立50年来,Barrisol®已意识到保护和尊重环境的重要性,并将其列为优先事项之一。今天,它是它的企业政策的主要载体之一,并参与绿色解决方案奖已经允许Barrisol®说,这是可能的传统,创新,技术和自然资源的保护结合起来。
Barrisol®系统的设计原料比传统产品少20倍,所有Barrisol®面料和铝型材均可100%回收利用。董事会成员的建设英国,加拿大和美国绿色Barrisol®推出Barrisol®莱斯Recyclés®范围在2007年和尊重环境的背景下创新:Barrisol®"Recyclés®"是从头设计。 Barrisol®膜。 Barrisol®产品也具有A +等级并符合最严格的欧洲和国际标准。
Barrisol®使用可回收材料,并鼓励其合作伙伴和客户在重复使用材料的过程中遵循这些材料。
因为让明天的世界变得更加美丽,首先要保护它今天。
100%可回收的帆布
由回收的Barrisol®膜制成
比传统材料少20倍的材料
绿色建筑理事会成员英语,加拿大和美国
VOC A +排放等级
符合欧洲和国际标准
起源法国保证
2017 年6月 -

Ross Lovegrove Retrospective, Centre Pompidou

"Barrisol, the world leader in the design and manufacture of stretch ceilings, is very proud of its collaboration with Ross Lovegrove, a world renowned designer for his reflections on organic shapes. With fifty years of industrial experience, Barrisol Normalu has demonstrated great mastery in bringing to life his singular forms and organic silhouettes. The complicity between Ross Lovegrove and Barrisol has pushed the boundaries of Design by finding the most accurate solutions in the field of lighting and mirrors," says Jean-Marc Scherrer, President Barrisol-Normalu SAS.

"Barrisol has a talent for exploring organic and open spaces. Our studio, dedicated to innovation and foresight, concentrated its efforts to deepen the acoustic control, to obtain the best elasticity and lightness of the surfaces, to increase the quality of light diffusion. This facility opens up an aesthetic territory stretching from ocean to space, generating a 21st century dialogue between aquatic biomorphism and NASA intelligence systems" says Ross Lovegrove.

An honor in fact for Barrisol to be part of this adventure, this magnificent retrospective through 13 panels Barrisol for a total of 45 m2 and unforgettable works such as:
Pavillon Lasvit LiquidKristal, 2012
Infinity Loop, 2014
Barrisol Cocoon, 2016

Meet us at the "Ross Lovegrove Convergence" exhibition of the "Mutations / Créations" event of the Centre Pompidou from April 12th to July 3rd 2017 in gallery 3, level 1.
2017 年6月 -

42nd Street Musical

The biggest musical on Broadway « 42nd Street » is starring a huge Barrisol® Mirror® made from several Barrisol® frames. The choice of Barrisol® has become obvious for the unique decoration of the show « 42nd Street » by the unique qualities of Barrisol® Mirror® :
Mirror

®

fire-rated
Perfect reflection
Very low weight
A+ air quality
100% recyclable
Barrisol® is proud that a show of this magnitude has made the choice of Barrisol®'s flagship product, reflecting the beauty of a scene from this American show (0:38 of the video below).
For more information on this show, visit the official website.
2017 年6月 -

The Venice Biennale

All the art lovers will tell you, one of the biggest events of this field in the world is the International Exhibition of contemporary art of the Biennale of Venice (Esposizione internazionale d'arte di Venezia).

A major event in which Barrisol is proud to have participated. The world number one has installed a ceiling, this black ceiling, lacquered, stretched in the heart of a Venetian palace is in continuity with the ceilings of Venice, also precursors in their time.

It is an honor for us to have been able to collaborate on an event of this magnitude. And to have ensured that this magnificent Barrisol black lacquered ceiling reflects the equally magnificent works.

An exhibition that will last, with our stretch ceiling, until November 26, 2017.
2017 年6月 -

Exhibition Mime Marcel Marceau

Since the beginning of March, in the center of Strasbourg, there was an exhibition retracing the evolution and life of the mime Marcel Marceau.

Marcel Mangel, known as Marceau, was born in Strasbourg on March 22, 1923. It is therefore quite natural that this exhibition took place at Place Kléber in the center of Strabourg.

A wonderful event, sober as possible, in which Barrisol could take part.

By choosing Artolis frames as a support for the history of mime, the association "a museum for mime" has done us a great honor. An important and clever choice, both in terms of aesthetics with an intimate atmosphere offering adequate light for an exhibition, and practical, since there is no frills, the light and the frame being only one.

A support as obvious for the world leader of stretch ceiling which, like Marcel Marceau, always knew to remain close to his native region and proud of its roots.
2017 年6月 -

Barrisol supports the ASPTT-Mulhouse

Proud of its region, the sports represented there and the talents that emerge from it, Barrisol has always made it his mission to bring back to the front of the stage the teams or the sports events that are close to him.

We can cite in a non-exhaustive way the tour of Alsace supported each year, or the tournament "Future" organized by tennis club Illberg and Barrisol since 22 editions. But this support is not exclusively reserved for the region, with, in particular, the international sponsorship of the French men's handibasket team, a desire for Barrisol to support beautiful life projects, and change the looks on this sport.

It is in this process that Barrisol is proud to announce the new partnership with Mulhouse's women's volleyball team, ASPTT-Mulhouse.

We recall that ASPTT Mulhouse is champion of France, you can see the play at home at the Palais des Sports, and their 2017 calendar created in collaboration with Barrisol, who is proud to support this wonderful team that achieved an exceptional performance, is available.
2017 年6月 -

Haute Couture Spring-Summer 2017 Fashion Show by Franck Sorbier

Not long ago was Fashion Week in Paris, the occasion for the biggest haute couture houses and for the greatest creators to present their new collections "Spring-Summer".

Franck Sorbier was present, with a collection "Haute Couture Spring-Summer 2017" whose motifs inspired by the XIXth made a strong impression.

Patterns that have come a long way before arriving at Fashion Week, since they come from the Museum of Printing on Etoffes of Mulhouse. Eric Ballargent, director of the Museum, explained that more and more designers came to take inspiration from the museum's vast collection. There are no less than 6 million textile samples.

But Franck Sorbier did not stop there, he chose to put Alsace completely in the spotlight this year, choosing an Alsatian firm for its scenery: Barrisol. An honor for the company of Kembs, very close to the Museum, and that for years. The opportunity for the leader of the stretched ceiling to show all his know-how and to sublimate this magnificent parade.

André Manoukian, now familiar with the Barrisol universe through his many collaborations with the company, was also present in the front row.

An unforgettable moment for Maison Sorbier, for the Museum of Printing on Etoffes and for Barrisol.
2017 年1月 -

Barrisol® winner of the 2016 Export Trophy

On December 15, 2016, at the 20th edition of the regional export trophy, Barrisol®, the world leader in stretch ceilings, was again rewarded for its dynamism.

Set up by the Alsace Chamber of Commerce and Industry, this trophy rewards each year the Alsatian companies who have put in place a dynamic and efficient export approach. These companies are living proof of the diversity of Alsatian know-how, both in the high-tech sectors and in the traditional sectors.

An approach in which Barrisol® is totally integrated. And it was with immense joy that we received this trophy, as a highlight of the work carried out since the birth of the company and its dynamism to export. Indeed, in 2016 Barrisol® made more than 60% of its export turnover.

We thank all those who contributed to this success.
2017 年1月 -

Partnership with the Hansi Museum

The company Barrisol®, is constantly expanding internationally, as the export trophy proves, but it does not forget its origins.

By creating a partnership with the Hansi Museum, the leader of the streched ceiling confirms its position in Alsace. A region rich in tradition, with a wealth of know-how, notions and values that the Hansi Museum embodies, and which has been shared since its birth by Barrisol®.

This partnership makes the link between Barrisol® and the history of its region, a story perfectly illustrated by Hansi in his watercolors which are now available in our image catalog, a suitable atmosphere for your interior.

Like the tree, Barrisol® does not forget that it needs its roots in order to grow flourish.

This partnership puts at your disposal a unique collection of 1500 creations by Jean-Jacques Waltz called Hansi.